To recap last week we started our Top Ten-est Best Rap Albums of All Time with our number ten selection Kanye West's Late Registration. Today we will take a look at #9. I was torn between two albums from the same artist for my #9 spot. Hard to Earn and Step in the Arena by Gang Starr, the first being the classic album everyone seems to hold as their go to and the second the classic album where they first made the leap from run of the mill to great. I have since been sitting with both albums and comparing and contrasting to see which one deserves this slot. To figure this out I think we need steal an idea from Bill Simmons and break them down Dr. Jack style to see who wins.
Beats – It's hard to argue that during this period there was nobody better than primo. His work from Step in the Arena through Hard to Earn stand out as one of the strongest three album periods for any producer, and that is not even including his production with other artists. For me it was a matter of what worked better through the entire album. Both albums have a cohesive feel and where Step in the Arena is more consistent throughout, it can't match the high points that are featured on Hard to Earn. Songs like Code of the Streets, Mass Appeal and Dwyck feature some of the greatest beats ever dropped. On top of that he dropped beats that made the two Group Home appearances listenable. I would take away points because there are beats that lack and show the early signs of Primo's movement towards a one dimensional sound that would hound later Gangstarr efforts. It is hard to point out a weak production moment on Step in the Arena which for my dollar is the high point in jazz inspired production. I really can't call it here; I wouldn't kick the production from either of these albums out of bed but if I had to pick at gun point…
Edge: Hard to Earn but just barely.
Raps – Hard to Earn was the first Gang Starr album that the quality of Guru's rhymes starting to fade when compared with the work that Primo was doing. He still had a good flow and was able to mask this deficiency but upon repeat listens it becomes more apparent that he really isn't up to snuff for the era. On Step in the Arena, he killed it, especially in relation to the time. In 91 you could still get away with not being super lyrical and stylistic. By 94 a new era of mc was infiltrating the scene and Guru just couldn't keep up, he was by no means terrible but he was starting to fall behind.
Edge – Step in the Arena
High point(s) – As documented before Hard to Earn had some of the highest points in Gang Starr's career.
Edge – Hard to Earn
Guest appearances – Hard to Earn featured much of the Gang Starr Foundation (Jeru, Group Home, Big Shug) and the only one who was any good was Jeru. Step in the Arena had no guest appearances.
Edge – Step in the Arena, I would rather hear no guest appearances than shitty ones.
Content – 1994 was the start of the "everyone is hard era", and guru fell right in line. Every song was either about the streets, wack rappers – either killing them or their inherent lack of value, or Brooklyn (important to note that neither Guru nor Primo were from Brooklyn). Oh and one song about basketball, which is the greatest song about basketball to date. Sadly Guru has taken his tough guy routine to such an extreme that it's hard to even take him seriously. Step in the Arena was a bit more diverse, cautionary street tales, rapping about his raps, self determination, enlightenment, love gone wrong, and annoying groupie types. Additionally he hadn't gone into his full on Brooklyn mode yet. Personally I prefer an mc with greater range, who is a bit more truthful and feel the more diverse subject matter makes for a stronger album.
Edge – Step in the Arena
Overall – Hard to Earn did more to cement Gang Starr's position in the annals of rap, with songs like Code of the Streets, Mass Appeal and Dwyck (the greatest posse cut not called Protect Your Neck or The Symphony in the history of rap). At the same time the album featured songs like Long Way to Go, Brainstorm, Words from the Nutcracker, and F.A.L.A which hamper the quality of the album. Step doesn't have the same level of hits but the total album, front to back is much more solid. Guru did not start drifting towards the one dimensional MC he eventually turned into. Primo while still developing his sound made a massive leap from No More Mr. Nice Guy to Step in the Arena and laid down the foundation that would become one of rap's most signature sounds.
Edge – Step in the Arena
Both albums are undeniable classics but I have to give the nod to Step in the Arena, it is just a stronger, more focused, more musical, and more interesting effort.
Our Number 9 Album – Gang Starr – Step in the Arena
And the runner up for the spot – Hard to Earn –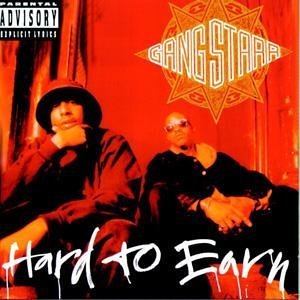 Tags: Alaska, gang starr, List, timlaska, Top Tenest