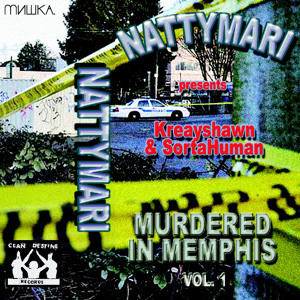 SortaHuman – "SortaHuman" From Nattymari's Murdered In Memphis by Мишка Bloglin
SWAG:
Here's a little sample of the upcoming mixtape "Murdered In Memphis" coming out soon between Clan Destine Records & Мишка. The concept was simple. Take some loops from classic Memphis tracks and let some of my favorite based rappers handle the rest. The result is an unsettling yet oddly familiar tribute to the sounds of Mid-90s Memphis, where dark imagery and suspect production values ruled cassette decks. Kreayshawn and Sortahuman are cast in starring roles, with the support of Young Hawaii Slim, Jay Ugh, Gata, Alexander Spit, V-NA$TY and OG Nery.
Sortahuman manage to sound upbeat over a track that wears it's ground hum like it's dookie goldThis is Alien Technology at its most based. Primitive and primal. 5150 Griot Swag.
-Nattymar
I am (very) slowly coming around with Kreayshawn, but I've been sold on Sortahuman since 'go'. Check out a couple of the Kreayshawn tracks here and make sure to base your face off with Nattymari. Murdered In Memphis should occupy some space here very soon.
Tags: Blast, Huntsville, Kreayshawn, LA, Nattymari, SortaHuman