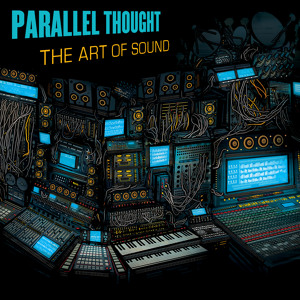 Last week we brought you Parallel Thought's awesome collaboration with Breeze Brewin, now here's the full stream for the album that collaboration was taken from. Art Of Sound serves as a showcase for the group's varied talents, highlighting both their rap production acumen and their ability to create standalone instrumental compositions.

Fresh off their latest album Attractive Sin with Del the Funky Homosapien, Parallel Thought releases their first true solo effort, Art of Sound. This full-length project is produced by all three members Drum, Knowledge, and Caness, who doubles as the groups main emcee. Art of Sound is a sound museum curating lush landscapes that not only stays true to, but also builds upon the integrity of Parallel Thoughts earlier works, featuring "classic sounds with rich layers of funk, soul, jazz, blues and rock sampling that honor the genre-bending experimentation prevalent in '80s and early-'90s hip-hop" .

Though the album is almost entirely instrumental, highlighting the group's progression of production skills, emcees Breeze Brewin from the Juggaknots, Alabama's Gene the Southern Child, and Caness make guest appearances. Parallel Thought builds upon the foundation of their previous catalogue and sets the tone for future works.



You can pre-order the album in digital form via Itunes or as a CD/LP combo via UGHH
Tags: Alabama, Alex, New Jersey, Parallel Thought