It's been a Minnesota minute since we last chopped it up with our pal Sluggo. This weekend Atmosphere kicks-offs their Welcome To Florida tour, so it only made sense to mix it up once again as we talk music, touring, Obama and his dislike for Larry David. If you haven't already checked out Southsiders, you can now stream the album on Spotify or cop on the Tunes. –Jason Gloss
Philaflava:  It seems like Atmopshere has this 3 year plan with each release since Seven's Travels. You drop an album, tour, make music and boom, three years later we got another studio release. Are you still on that path?
Slug: Not sure. I can't say that we've intentionally held on that structure. We always end up putting out extra music between album cycles. I think we just hand shit in and the label talks to itself about when it wants to release the music.
Philaflava: We'll soon be coming up on a year (6/5/2014) since the Southsiders album dropped. Looking back, are you happy with the response the album received from both the critics and fans?
Slug: I'm genuinely happy with how Southsiders was received. The handful of friends that I absolutely needed to understand it, did understand it. I've been on this little red wagon long enough to embrace that we have no control over how strangers interpret our crap. One thing I did notice from reading the reviews was that the age of the critic was maybe-kinda-possibly a factor this time? It seemed like younger writers didn't care for it, whereas some of the older writers at least tried to understand it and say something nice or constructive about it. I believe that's par for the course.
Philaflava: I know each album is like a baby, but on this particular album, which track are you most proud of?
Slug: As of yet, I don't have any favorites.
Philaflava:  In '08 many of us, especially you, shared a lot of enthusiasm for our POTUS. You were very open about that, even going to some extent by campaigning. Do you still share the same enthusiasm for President Obama?
Slug: If I could go back and do it again, I would do it the same. even with his flaws, lies, and dirt. I still believe he's the best presidential ballot I've cast since I began voting for presidents in 1992.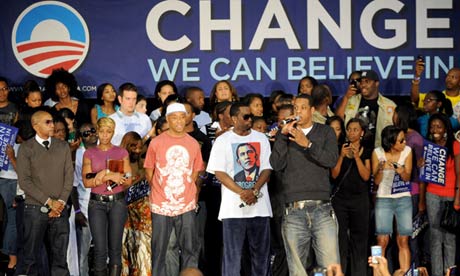 Philaflava: Besides the war, what is the one issue you're most disappointed in Obama for?
Slug:  I don't blame Obama for any one issue. Obviously, the blame extends beyond the one dude. I just wanted more and less. More understanding, less killings, more justice, less corruption. I wanted us to get as close as possible to what my definition of utopia is, because I'm self centered and I think that my way is what's best. It's unfortunate that on the surface of this mess, a president gets singled out as the catalyst for our more and less. I wish there was a way to share the blame with everyone who deserves it, ourselves included.
Nonetheless, for what it's worth – 3 presidents from now, I predict that I will look back on the Obama administration and I will be proud of the first time that white America put their trust in a black president.
Philaflava:  In our last interview I asked about the possibility of putting out unreleased Eyedea material and you told me that his family has full control, but if they called on you, that you would be there to help. Has there been any discussion about that?
Slug: Not that I'm aware of.
Philaflava: My favorite track off Southsiders would be Camera Thief. To me, it's a song of randomness. Just moments or memories thrown a canvas and more importantly, the self declaration behind the message.  Now tell me how ridiculous am I for thinking I understood it?
Slug: Seems like a fair interpretation. I'm not really sure what I wanted the listener to extract from that song. All I'm accountable for is what I interpret from it. to me, that song is about stealing moments and making them into paintings/photos/songs etc.
Philaflava: Has anyone from the Kanye camp reached out to you for Kanye West?
Slug: Nope. Not expecting anyone to.
Philaflava:  I take it you weren't invited to the KimYe wedding?
Slug: Not that I'm aware of. but to be fair, I haven't checked my p.o. box since 2003.
Philaflava: What was the one album you recently played that isn't something people would expect you to like?
Slug: Southsiders.
Philaflava: Such a Slug answer. Besides your own album.
Slug: It's not like I've been bumping audio books on how to yodel. In my car right now is the new Lupe Fiasco, the new Has-Lo, Your Old Droog and SOUTHSIDERS. Just kidding.
Philaflava: When you aren't touring or making music, which is rare, you're husband and a father of three. But occasionally you can be foundroaming cities your camera.  How did you get into this hobby?
Slug:  To be fair, I don't use a camera. Ii take pictures with my phone and put them on social media to trick people into thinking Ii'm artsy. I'm getting old and fat, so all I have left to elevate my sex appeal is artsy and I'm not even doing the best job at maintaining that. So please, lay off. It's a touchy subject.
Philaflava: Touring is always very lucrative for artists, but it's also cathartic. Are there times where you feel conflicted about having such busy tour schedule?
Slug: Anyone with kids probably feels conflicted about spending too much time way from home. All you can do is do your best to make your time at home as quality as possible.
Philaflava: What is it about Florida that has you always coming back home to us?
Slug: Meth
Philaflava: Finish the sentence: Brother Ali knows how to cook up a mean _________.
Slug: Sweet potato pie
Philaflava:  On the tour bus Ant is notoriously doing _________.
Slug: Watching Martin Scorsese films.
Philaflava: I think many of us imagine Ant coming over on a Friday night discussing record ideas while you are all sitting around the family table eating a big bowl of spaghetti. Are you and Ant always  together? The last few albums, didn't you record separately?
Slug: Not really. We do a lot of work independent of each other. But mostly, we are reading over each other's shoulders.
Philaflava: You once told me you hated Larry David.  How is the hell is that possible considering you're a big Marc Maron fan?
Slug: Listen, I don't know who Larry Davis is. I only told you that I hated him to upset you. Who is he? He's like, the guy that made Seinfeld, right? Never been a huge fan of seinfeld. I grew up on Barney Miller and Taxi. Real television for real people.
Philaflava: That is like hating on Rick Rubin for producing Limp Bizkit. I can assure you that Curb Your Enthusiasm isn't exactly like Seinfeld.
Slug: I watched a whole season of Curb Your Enthusiasm. Season one, meh.
Philaflava: 
Philaflava: Which trend did you fall victim to back in the day? The nose ring, the lines in the fade or the Hammer pants?
Slug: I had a nose ring in 1991. I have tattoos. Tomorrow I shall acquire some shell toe Adidas.
Philaflava: Have you ever flirted with the idea of changing your moniker, especially as you get older?
Slug: Totally been thinking about changing my name to Bookman.
 Welcome To Florida Tour
03.22.15Ft. Lauderdale, FLRevolution
03.24.15Jacksonville Beach, FLFreebird Live
03.25.15Pensacola, FLVinyl Music Hal
03.26.15Gainesville, FLHigh Dive
03.27.15Tampa, FLThe Orpheum
03.28.15Orlando, FLThe Beacham Theatre
Tags: Ant, Atmosphere, Brother Ali, Eyedea, Florida, interview, Larry David, Philaflava, President Obama, Rhymesayers, slug, tour dates