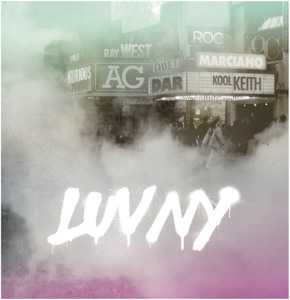 Tracklist and first tastes of the LUV NY project, all very impressive. Production is often a weak point for veteran MCs making music, but here it might almost steal the show. Ray West is a very underrated producer; the dusty jazz-funk scoring these snippets sounds appropriately nostalgic without feeling trite and derivative, on par with West's previous work with A.G. and similar to the outstanding production on Ka's Grief Pedigree.

01 Intro
02 Legacy feat. O.C.
03 Egyptology feat. A.G. & Roc Marciano
04 Snake Charmer feat. A.G., Kurious & Dave Dar
05 Extreme Status feat. A.G. & Kool Keith
06 The Ritual feat. Sean G
07 Shorties Watching feat. Kurious
08 These Rappers under the hex feat. A.G.
09 Last Night Finesse feat. Dave Dar
10 I Been Luvin U feat. Kool Keith
11 Pressure Up feat. Kool Keith & Roc Marciano
12 The Blues Got Ya feat. A.G.
13 Acid feat. O.C.
14 Random feat. A.G.



The LUV NY soundcloud page has a more indepth description of what the album is about, you can read it here.

Tags: A.G., Alex, Dave Dar, Kool Keith, Kurious, new york, OC, Ray West, Red Apples 45, roc marciano