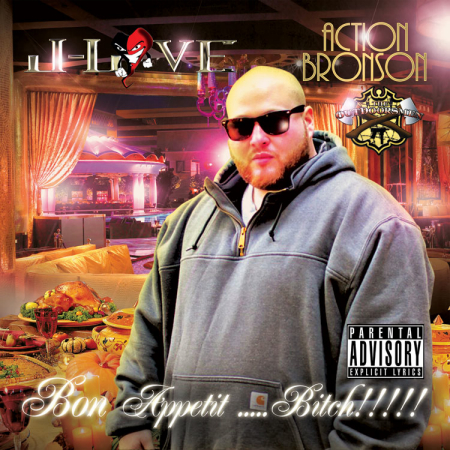 This post is very overdue, I've been playing Bon Appetit…. ad nauseam since it came out a few weeks ago.
It's tempting to mark Action as another proficient 'throwback' rapper, but doing so would ignore the eccentricities that set him apart from the rest. While there is indeed a healthy measure of 90s NY nostalgia in his music, he seems more intent on enjoying the present and future than on retracing the past. His beat choices are more adventurous too, most rappers pining for Carhart glory days don't rap over Lemonade or the theme from Eastbound and Down, or the mariachi song from Desperado.
The Eastbound and Down theme usage is worth singling out, it's very effective. The resulting song is not that great in of itself, Freddie King's 'Going Down' just doesn't lend itself too well to rapping beyond the novelty of actually doing it. But placed at the opening of the mixtape it works wonders as a statement of intent, just as well as a snippet of hard boiled movie dialogue would for hardcore rap or a quote from a civil rights leader would for something socially conscious. The listener is immediately able to infer the state of mind of the artist, his general mood and the frame of reference he speaks from. To wit, if you hear those opening guitar licks and you recognize them and it draws an approving smile, you're probably in the right place.
And then there are the food haute cuisine references… Many rappers lace their narratives with gastronomic allusions, but none do/did it to such extent or with such relish (terrible pun, sorry). Oh you think steak and lobster is some shit? Good for you, Bronson laughs at your TGIFridays-ness while dry aging Kobe beef and swigging from the bottle of 100yo cognac he meant to use in his Newburg sauce. Here you have to note that while others use fine dining as a signifier of advanced financial status, Bronson does it mostly out of sheer love for the subject. The guy just loves to cook and eat, and he'll gladly tell you all about it in intense detail. Fair warning, his enthusiasm is infectious and listening to Bon Appetit…. around dinner time can be an expensive proposition. Last time I had it in the headphones while in the supermarket I walked away with $20 half-pound of prosciutto. And I'm glad I did it.
You can stream the whole mixtape below and buy it for cheap from here, here and here.
Tags: Action Bronson, Alex, j-love, Meyehem Lauren, Shaz illyork, Shaz One