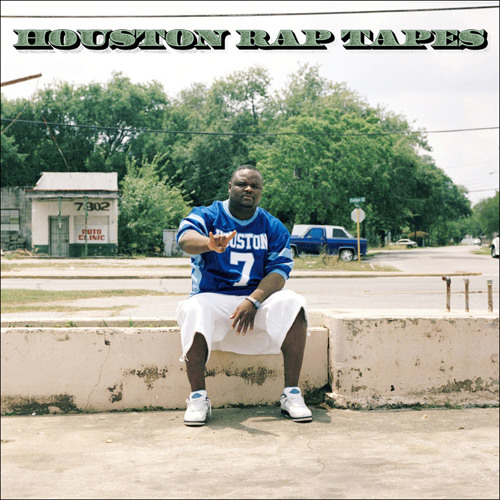 Just as the title says… a nearly 7 hour retrospective of past and present Houston rap, compiled by Lance Scott Walker and Peter Beste, the creators of the awesome Houston Rap book and its companion Houston Rap Tapes. Listening to this in its entirety could probably earn you college credits for a 300 level course on Texas music, if such a thing existed. A full tracklist is below.

While you listen, check out this good interview with Lance Scott Walker in CAPTCHA, courtesy of the always knowledgeable J-P Labarthe and Sinixta Soundz Lord. Google translator is obviously your friend here. Also, there is another good interview about the book with Peter Beste HERE.



Mix premiered via The Source.



Compiled by Lance Scott Walker (February-March 2014)
Selections by Lance Scott Walker and Peter Beste
Cover photo: Hawk by Peter Beste (Screwed Up Records & Tapes — South Park, 2005)

Tracklist:
Street Military (KB Da Kidnappa, Pharoah, Icey Hott, Lil' Flea) "Dead In A Year" (1993)
Fat Pat and Mike-D "Freestyle" DJ Screw mix (1996)
Geto Boys (Scarface, Willie D, Bushwick Bill, DJ Domination a.k.a. Domo) "Ghetto Fantasy" (1996)
Criminal Elament (Ice Water Slaughter, June Bugg, Lil' Raskull) "Trippin Out" (1994)
Big Gerb & U-Neek "Hongree Mobb" (2013)
E.S.G. "Swangin' And Bangin'" (1995)
Propain ft. Lil' Keke "Ridin Slab" (2013)
Southside Playaz (Fat Pat, Mike-D, Mr. 3-2) "Swang Down" (2000)
Mic Skills ft. Kidd the Great "Defiant" (2008)
Lil' O ft. Beyonce "Can't Stop" DJ Screw mix (1997)
Devin The Dude "Doobie Ashtray" (2001)
Too Much Trouble (Drunk D a.k.a. Nickel Nut, Bar-None, Ghetto MC, DJ Bad News Black) "Wanted Dead Or Alive" (1992)
Slim Thug "Like A Boss" Yppah mix (2006)
Wreckless Klan (Point Blank, Ice Lord, PSK-13) "I Wish" (1996)
Big Ron "How You Want It" (2006)
K-Rino ft. Bang "Ups And Downs" (2005)
UGK (Pimp C, Bun B) "Pinky Ring" (1996)
Coota Bang & Archie Lee ft. Yung Redd "Real Talk" (2007)
Lower Life Form (Brew, PhD, C.o.S) "Go Rillaz" (2010)
Showtyme "Gangster Shit" (2005)
Klondike Kat "Games People Play" (2006)
Deep Cold & Kamla Punjabi "Kamla Banake Me" (2011)
DJ DMD ft. Fat Pat, Lil' Keke "25 Lighters" (1998)
Justice Allah "What I'm Seeing" (2011)
Raheem "5th Ward" (1992)
Willie D "Guess My Religion" (1993)
Boss Hogg Outlawz (Slim Thug, Chris Ward, Killa Kyleon) "Living Without" (2008)
380 Dat Lady "Who's That Lady" (1996)
Lil Flip ft. Yung Redd "Rollin On 20's" (2003)
Al-D "Why You Hatin' Me" DJ Screw mix (1995)
H.I.S.D. (Savvi, EQuality, Scottie Spitten, LDA Voice) "Space City Express" (2010)
Gang Society (E-Sharp, N-Sane, C-Majo, Red Amp) "Half Dead" (1995)
Big Mello "Back Do Akshun" (1994)
Doughbeezy "Light You Up" (2013)
G-Rapp The General ft. Mafia Genie "Basemotel" (1998)
Lil' Keke "Southside" (1998)
DJ Michael '5000' Watts "'See What I Can Pull (Devin the Dude)" (1998/2004)
Together Brothers (The ARE, Kay of The Foundation) "Ya Wanna" (2006)
Bushwick Bill "Ever So Clear" (1992)
C.O.D. (K-Rino, Dope E.) ft. Point Blank, Murder One, Klondike Kat "All About Dough" (2006)
Mr. Mike "Where Your Love At" (1996)
ABN (Z-Ro, Trae Tha Truth) ft. Hawk "Down In Texas" (2008)
Convicts (Big Mike, Mr. 3-2) "I Ain't Going Back" (1991)
Billy Cook ft. Trae Tha Truth "That Shit Gone Change" (2006)
Dead End Alliance (DJ Screw, Fat Pat, Hawk, Kay-K) ft. Lil' Keke "Down In H-Town" (2000)
Big Love "Thug" (1997)
Z-Ro & Slim Thug "Go Long" (2013)
Half Dead Organization (J.P., Lil' Smitty, Foe, Wood a.k.a. K. Brown) "You Can't Kill Me" DJ D mix (1996/2003)
Dat Boy Grace a.k.a. Macc Grace ft. Enjoli "Come Ride Wit A Playa" (2000)
Ganxsta N-I-P ft. J Prince, Scarface, Willie D "Action Speaks Louder Than Words" (1992)
Mr. 3-2 "Call Up On Drank" (2003)
Poppy of G.R.I.T. Boys ft. Devin The Dude, Lil' O "One Puff" DJ Red mix ft. Optimo Ram (2013)
Prime Flo "Dead End Game" (2002)
Guerilla Maab (Z-Ro, Trae Tha Truth, Dougie D) "Fondren & Main" (1999)
Killa Cal Wayne "Take Me As I Am" Optimo Radio/DJ Red mix (2013)
Lil' Head ft. Paul Wall "It's Too Late" (2004)
DJ Screw "Freestyle (ft. Sherro)" (1997)
The Terrorists (Dope E., Egypt E) ft. Ganksta N-I-P "Cloud On Suckas" (1992)
‪Beltway 8 Boyz (Moe B., Bubba Luv, A.Y., J.B., Naro, Young Black, Super Dave) "Starched Down" (2004)‬
The Officials (Kaza, E) ft. Klondike Kat, Gutt "Don't Understand Us" (2005)
Odd Squad (Devin the Dude, Jugg Mugg, Rob Quest) "Smoken 'Dat Weed" (1994)
Insane Klan (Hollow Point, Bullet Proof, Top Dawg) "Never Fear Death" (1994)
S.L.A.B. (Trae Tha Truth, Jay'ton, Lil' B, Lil' Boss a.k.a. B.O.S.S.) "Catch Me In Tha Lot" (2005)
Paul Wall & Chamillionaire "The Other Day" (2002)
Kyu Boi ft. PSK-13, Murder One "Rollin in the Caddy" (2006)
DJ Red "Fuck A War (Geto Boys)" Optimo Radio mix (1992/2012)
Filero ft. Age "Take No Shit" (2007)
Mr. Wired Up "U Wired Up" (2005)
Crime Boss "You Gotta Reap What You Didn't Sew" (1995)
Hawk ft. Devin the Dude, Chamillionaire, Trae Tha Truth "Coming Home" (2007)
Grimm & The Southeast Latin Sector "Mexicanos Veteranos" (1993)
A.C. Chill "Ya Don't Wanna" (2004)
K-Otix (Damien Randle, Micah Nickerson, The ARE) "Frequencies" (2001)
Lil Byrd "Just Ride Or Die" (2008)
Top Dog ft. Icey Hott "Silly Hoes" (2005)
The Niceguys (Easy Yves Saint, FREE, Christolph, DJ Candlestick) ft. Lee-Lonn Walker "Somebody" (2011)
J-Dawg "Don't Wanna Go Back" (2010)
Radio Galaxy (Spacebunny Jefferson, King Midas, DJ Cozmos) ft. Sam Trump "Passing Cars" (2012)
DJ Screw "Like What You See (Fat Pat ft. Big Pokey)" (1999)
Coughee Brothaz (Devin the Dude, Jugg Mugg, Rob Quest, Tony Mac, 14K, Bull) "Don't Get Me Wrong" (2006)
Black Mike ft. B-1 "Lord Please" (2004)
Ronnie Spencer ft. Mr. 3-2, Al-D, Sur Este "Way Back" Optimo Radio mix (2013)
Nosaprise ft. Kam Franklin "Hot Nights" (2012)
Rob Gullatte "New Freak" (2014)
Dat Boi T & Lucky Luciano ft. Lil Koo "Lately" (2012)
Hollywood FLOSS "Underdog" (2014)
Herschelwood Hardheadz (Duke, Knock, Archie Lee) "Highway" (1998)
Pymp Tyte (Sean Pymp, Tyte Eyes) "H.U.S.T.L.A." (1999)
Blac Monks (Mr. 3-2, Da, AWOL) "Jungle Funk" (1998)
Mike Jones "Scandalous Hoes" Swishahouse remix (2005)
‪D Of Trinity Garden Cartel "I'm So Cool‬" (1995)
KB Da Kidnappa "On Top Of My Game" (2013)
Mobb Figgaz (Lil' C, E-Clay, Q.B., Agg) "Jam Down" (2000)
Big Steve a.k.a. Granpappy Mafioso a.k.a. Mafio ft. Big Mello, Mr 3-2 "Outta Control" (1999)
Fat Pat "No Glory" (1997)

This mix is streaming only — support the artists!

Tags: Alex, Houston, Lance Scott Walker, Peter Beste, Texas